Please see our Facebook page for all the very latest news
** RCOG Covid 19 Guidance for Women and Families **
** RCOG Covid 19 Main Guidance page **
With many thanks to Access Legal for their support.  'Campaign inspires change in law' 

1st September 2020
Article from Shoosmiths: Law change to allow inquests for stillbirth cases delayed by covid 19
28th August
An independent review has been commissioned by NHS England into One to One Midwives.   One to One Midwives were a company who provided maternity care for the NHS – mainly in north west England and Essex.
Niche Consulting are conducting the investigation into the overall service and its collapse for NHS England/Improvement. They are now asking for user input to the investigation: contact:  ruth.laird@nicheconsult.co.uk
24th July 2020
Health & Social Care Committee chaired by Jeremy Hunt has started an inquiry into maternity safety
16th July 2020
HSIB report published – 'Severe brain injury, early neonatal death and intrapartum stillbirth associated with Group B Streptococcus infection'
8th July 2020
Cumberlege review published:  The review was commissioned to look at three treatments: Primodos, Sodium valproate and Pelvic mesh implants

29th June 2020
Independent Investigation into East Kent Maternity Services – Chaired by Bill Kirkup
Nicky from Campaign for Safer Births has been asked to be a specialist adviser to the Investigation.
8th June 2020
MBRRACE have recently published findings and recommendations from their ESMiE study: "This study focuses on babies who died during or shortly after birth where the mother received care in labour in a midwifery unit or at home."
6th May 2020
Pregnancy and Coronavirus: New NHS England webpage.  It's so important for women to contact their midwife or maternity service if they have any concerns
8th April 2020
HSIB publish summary report into East Kent Hospitals University NHS Foundation Trust
26th March 2020
Healthcare Safety Investigation Branch (HSIB) published their initial national maternity report – reporting on the key areas from their maternity investigations.
18th March 2020
Latest Each Baby Counts (EBC) report published. EBC aims to reduce the number of babies who die or are left severely disabled as a result of incidents that happen during term labour.
March 2020
Report published by the Care Quality Commission on Thursday summarising what they have seen in their maternity inspections and where improvement is needed: Getting safer faster: key areas for improvement in maternity services
6th March 2020
Campaign for Safer Births have signed this letter calling for sufficient funding for maternity training. We believe investment in training WILL ultimately save money and save lives!
4th March 2020
In early 2016 the NHS England 'Better Births' report was published.
NHS England published an update on progress
13th February 2020
Nadine Dorries announced a review into East Kent Maternity
Here is the transcript from parliament
Independent review into NHS trust
22nd January 2020
Nicky, Co-Founder of Campaign for Safer Births, has presented at the Baby Lifeline National Safety Conference. Jeremy Hunt opened the event and Nicky followed sharing her son Harry's story and the subsequent campaign for improvements in care and independent investigations.
13th December 2019
Delayed report published today from MBRRACE:
'Saving Lives, Improving Mothers' Care: Lessons learned to inform maternity care from the UK and Ireland Confidential Enquiries into Maternal Deaths and Morbidity 2015–17′
From the report:
"…..improvements in care which may have made a difference to the outcome were identified for 29% of women who died."
"Maternal deaths are not evenly spread across our population. This report provides more detail on the inequalities behind these figures"
10th October 2019
MBRRACE publish Perinatal Mortality Surveillance report for births in 2017
MBRRACE have also published the first report on the Perinatal Mortality Report Tool (PMRT)
13th September 2019
NHS Resolution publish The Early Notification scheme progress report

September 2019
We are currently awaiting feedback on the Government consultation on Coroner jurisdiction for stillbirth – we have been told this is likely to be published in Autumn 2019
26th March 2019
Government commenced a Consultation to gain views on Coroner jurisdiction for stillbirth.  The Consultation runs until 18th June 2019.
Link to the Government Consultation
Link to BBC Report
Link to Northampton Chronicle article

15th March 2019
Tim Loughton's Private Members Bill that includes enabling Coroner jurisdiction for stillbirth completed its passage through both Houses of Parliament & will now get Royal Assent.  We would like to sincerely thank Tim Loughton, Baroness Hodgson and all who have supported this Bill through both Houses
9th January 2019
Mandatory maternity training introduced in Scotland – BBC article.  This has been brought about by the amazing work of bereaved parent Fraser Morton
8th January 2019
Nicky Lyon from the Campaign for Safer Births has been asked to co-chair the National Maternity Safety Workstream – which is run by NHS Improvement.
This workstream is focused on work to achieve the national ambition to halve the number of stillbirths, neonatal deaths, maternal deaths and brain injuries suffered by 2025. The national ambition also aims to significantly reduce preterm birth. The group wanted a user to be at the centre of this work- which is very positive.

13th November 2018
Latest Each Baby Counts report published
6th November 2018
Report published by Baby Lifeline investigating the provision of maternity training for frontline professionals across the country
1st November 2018
Latest MBRRACE report published 'Saving Lives, Improving Mothers care'
26th October 2018
The Private Members Bill that includes Coroner jurisdiction for stillbirth passed its 3rd reading and now moves to the House of Commons
20th September 2018
News that the scale of the investigation into maternity at Shrewsbury and Telford NHS Trust (SaTH) increases again.  BBC article here
30th July 2018
Saving Babies Lives care bundle evaluation published.  Babies lives have been saved in the hospitals within this evaluation
18th July 2018
Committee stage of the Private Members Bill to give Coroners powers to investigate stillborn deaths is in Committee

15th June 2018
Today MBRRACE have published the annual Perinatal Mortality Surveillance Report for 2016
16th May 2018
Report published today by the Professional Standard Authority:  'Lessons Learned Review – The Nursing and Midwifery Council's handling of concerns about midwives' fitness to practise at the Furness General Hospital'
Report documents that the concerns of families and the police were not appropriately acted upon.
Full report here
Times article: Watchdog ignored police warnings over fatal baby care
11th May 2018
Michelle, Cofounder of Campaign for Safer Births, attend a meeting today with officials from the Department of Health & Social Care and Ministry of Justice in order to consider the question of extending Coronial jurisdiction for stillbirths. This meeting is to understand the views and merits of Coronial involvement.
26th April
Nicky and Michelle attend the Each Baby Counts Advisory Group meeting

24th April 2018
ITV Report: Parents want action over stillborn baby after hospital admits mistakes

27th February 2018
Nicky's daughter Ruby had the honour of presenting flowers to the Duchess of Cambridge as she became Patron of the Royal College of Obstetricians and Gynecologists (RCOG)
More info here
20th February 2018
Times article: Britain's newborn death rate higher than in Belarus
3rd February 2018
Michelle featured in the Times article 'Outdated laws around stillbirth prevent coroners holding hospitals to account'
2nd February 2018
Tim Loughton's Private Members Bill – that includes Coroner jurisdiction for stillbirths – passed its second reading and moved to Committee Stage.  Tim mentioned Nicky and Michelle from the Campaign in his speech – the transcript can be found on Hansard here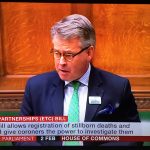 9th January 2018
Jack and Sarah Hawkins talked of the failings in care that lead to the death of their daughter and of the lack of independent investigation into the death
Their story was in the Mail:  'NHS physio and her doctor husband mourning 'preventable' death of their baby'
28th November 2017
MBRRACE publish the Perinatal Mortality Surveillance Enquiry into Term, Singleton, Intrapartum Stillbirth and Intrapartum Related Neonatal Death – Click here for Full report and here for lay summary.  The top line finding is that 80% of term deaths relating to labour was potentially avoidable.
To coincide with the MBRRACE publication the Dept of Health released the latest information on their ambition to half the number of maternal deaths, stillbirths, neonatal deaths and birth brain injuries – Safer Maternity Care
The National Maternity Safety Strategy – Progress and Next Steps
** Following much campaigning Coroner jurisdiction for stillbirths was included in this paper **  Our Campaign featured in the media – including Michelle talking on the Jeremy Vine programme and in the Times 'Minister calls for inquests on stillbirths'
21st November 2017
Meetings in Westminster with Tim Loughton MP, Lillian Greenwood MP and Jack & Sarah Hawkins, Justin Madders MP (Shadow Minister Health) and Mike Amesbury. We also met with Clea Harmer and others from Sands to discuss Coroner jursidicaiton for stillbirth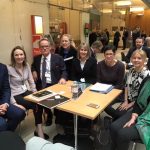 18th November 2017
Nicky met with local MP Mike Amesbury – who is supporting our campaign – many thanks Mike!
9th November 2017
National Maternity and Perinatal Audit (NMPA) report published.  Reported on the BBC 'Birth complications 'twice as common' in some hospitals'

30th October 2017
Michelle was interviewed on Sky News about our campaign.  See a recording on the interview on our Facebook page
28th October 2017
Article published in the Times about our campaign
The Times also supported us in their Comment section
12th October 2017
RCOG Each Baby Counts full report published on the cases reported during 2015. This also highlighted the high level of poor investigations that are taking place in Trusts – many without parent involvement
10th October 2017
Commons debate where the issue of Coroner jusristiction for stillbirths was mentioned by a number of MP's
6th October 2017
Jack & Sarah Hawkins appeared on the Victoria Derbyshire programme calling for inquests for babies stillborn in labour following the death of their daughter 18 months ago.  The couple then featured in national newspapers over the next few days.
19th September 2017
Five years of cerebral palsy claims, NHS Resolution, A thematic review of NHS Resolution data
Report published
11th September 2017
Nicky and Michelle went to the Houses of Parliament to meet Tim Loughton MP who has included inquests for stillborn babies in his Private Members Bill 
21st August 2017
The National Maternity and Perinatal Audit (NMPA) has published its first report
12th August 2017
Midwives back down on natural childbirth
Times article
8th August 2017
Why ARE hundreds of babies dying needlessly each year in NHS hospitals?
Michelle features in this Daily Mail article
27th July 2017
Blunders behind NHS baby deaths risk cover-ups under new plans
Daily Telegraph
2nd June 2017
MBRRACE reports published
21st June 2017
Each Baby Counts Summary Report for 2015 published showing the numbers of babies who have died or been left brain damaged due to intra-partum events during 2017
12th June 2017
Baby death families hear review findings
BBC Scotland Online
May 2017
Michelle's article for the RCOG on our involvement with Each Baby Counts
8th May 2017
The hospital errors leaving new parents devastated
BBC Online
5th May 2017
We met with the Chief Coroner of England and Wales, His Honour Judge Mark Lucraft QC  to discuss stillbirth investigations and extending the jurisdiction to allow Inquests
22nd April 2017
Midwives told to stop pushing own agenda for natural births
Times acticle
19th April 2017
'Sands part of collaboration to develop Perinatal Mortality Review Tool'
18th April 2017
Natural childbirth lobby putting babies at risk, warn parents
The Times
12th April 2017
Series of 'avoidable' baby deaths at NHS trust being investigated
ITV
1st April 2017
New Healthcare Safety Investigation Branch operational
31st march 2017
Why do 2,000 babies die needlessly during childbirth every year in the UK?
Telegraph article
16th March 2017
'Maternity Incidents not being reviewed'
BB Scotland online
23rd January 2017
Michelle featured in her local paper the Northampton Chronicle – entitled 'We want justice for our babies'

17th January 2017
WI/NCT report published 'Support Overdue'

27th October 2016
OFSTED style ratings introduced for maternity.  Initial results showed 3 out of 4 Commissioning Groups (CCG's) were failing patients.
17th October 2016
Government announcement on maternity safety
13th October 2016
MP's Debate baby loss
6th September 2016
First Stillbirth Inquest in Northern Ireland
24th August 201610th June 2016
Each Baby Counts 1st year report published
Michelle appears on BBC News
21st march 2016
NHS announces the Saving Babies Lives Care Bundle
23rd February 2016
National Maternity Review report 'Better Births' published
17th February 2016
Michelle features in the Northampton Chronicle
7th February 2016
Launch of the Sunday Times campaign for safer births
Here are links to further articles:
'Shamed hospitals blame high stillbirth rates on mothers'
'Maternity Units Ignore advice on stillbirth risks'
'A parent story'
'MaternityTurf wars harming mothers and babies'
'Uncaring staff added to pain of baby's death'
'Rise in injuries to mothers'
29th January 2016
Michelle and Nicky attended a meeting of the Each baby Counts Advisory Group
21st January 2016
Michelle featured in the Times 'The truth about Britain's stillbirth scandal'
19th January 2016
Lancet report on Stillbirth published
3rd December 2015
The Mail – 'Would our babies have lived if they hadn't been born at the weekend?'
2nd December 2015
Joshua's Story published.  Written by James Titcombe about the tragic death of his son, Joshua.  Available at Amazon
26th November 2015
Nicky & Michelle met with Baroness Cumberledge and Sir Cyril Chantler to discuss maternity safety and the National Maternity Review
25th November 2015
ITV report on poorer maternity outcomes at weekends
19th November 2015
MBRRACE Antepartum stillbirth Confidential Enquiry published.
13th November 2015
The Health Secretary Jeremy Hunt announced a new ambition to halve the rate of stillbirths, neonatal and maternal deaths by 2030.
15th November 2015
Michelle in the Sunday Times '600 Stillborn babies a year could be saved'
 16th October 2015
Attended the RCOG Patient Safety Day
4th October 2015
Sunday Times article: CQC inspections of maternity units……..Professor Sir Mike Richards, chief inspector of hospitals, said: "A significant number of units are providing or are at risk of providing elements of poor care. Almost a third are rated as 'requires improvement' . . . and about 5% are inadequate where we have the most serious concerns. This wide variation in the quality of maternity and gynaecology care in England is unacceptable."
30th September 2015
NHS England Asphyxia working group meeting
18th September 2015
Met with Sir Cyril Chantler from the National Maternity Review team to discuss safety and quality of care in maternity services
17th September 2015
Attended NHS England/RCOG Women's Patient Safety Expert Group
23rd June 2015
Attended the National Maternity Review BirthTank event
22nd June 2015
Attended the Each Baby Counts Advisory Group meeting
21st June 2015
Mirror article: 'Midwives furious after Jeremy Hunt highlights 'shocking' number of babies who die at birth – when there's shortage of 3,000 midwives'
19th June 2015
Warrington Guardian report on inquests for stillborn babies

16th June 2015
Met with the Chief Coroner, Judge Thornton, to discuss inquests for babies that die during labour. This is a positive step forward for our campaign. As always we will keep you updated.
10th June 2015
Times Article '1,000 babies a year stillborn as hospitals miss maternity standards'
11th March 2015
Attended the NHS England/RCOG Womens Patient Safety Group in London
4th March 2015
In London attending a meeting with NHS England and others about reducing harm through brain injury as a result of hypoxia.  The group will be exploring the reasons that these injuries happen, how to support related work programmes already in development and how we can influence further improvements.
March 2015
Morecambe Bay investigation report published
February 2015
Nicky has co-written a blog with Alan Cameron, RCOG Vice President, Clinical Quality for the Each Baby Counts Project.  You can read it here.

January
We have been contacted by one of the Consultants from St Mary's Hospital in Manchester offering support to our campaign and also letting us know that they now have 24 hour Consultant presence on their labour ward. RCOG guidelines state that all large units (>5000 births per year) should have 24 hour presence, however very few hospitals are meeting this requirement. It is fantastic to hear that St Mary's has managed to do this. They have said that they believe this change will result in a reduction of poor outcomes and also reduce unnecessary admissions.
When we have written to other hospitals asking why they are not meeting the 24/7 requirement they have given various reasons including a lack of funding and also issues with the Consultants contracts. None of the hospitals we contacted said it was because they thought 24 hour cover was not necessary.
We will continue to campaign on this important issue.
11th December
Pannone Solicitors part of Slater & Gordon have agreed to sponsor the Campaign for Safer Births.  We would like to thank Pannone for their support and generous donation towards our work.  This funding will help to cover our costs and is essential to help continue the work of the campaign.  Pannone are based in Manchester, although they work Nationwide, and can help with clinical negligence cases as well as many other areas of law.  Pannone can be contacted on 0800 884  0190 or visit www.pannone.com
December
We have been invited to sit on the Each Baby Counts Advisory Group as patient representatives.  The first meeting is on the 4th December

December
We have been contacted by Amy, a bereved mother and clinical negligence solicitor.  Read more about her in this article from the Independent and also her website.
23rd October
The RCOG launched the Each baby Counts project – a 5 year project with the aim of reducing stillbirths and brain damage during labour by 50%.  Nicky and Michelle both attended the launch event.  Nicky and Michelle both feature on the website.

21st October
Nicky and Michelle went to Westminster for a meeting with Rt Hon Chris Grayling, Secretary of State for Justice and Chris Heaton Harris MP.   The meeting was to higlight that the deaths of babies in labour cannot be invesigated by Coroners as stillborn babies are not within the Coroners jurisdiction.  This means there is no independent review and no national learning.  We were asking for a change in the law to allow these tragic deaths to be investigated by the Coroner. The meeting was very positive and the issue is going to be explored further by the government.
2nd October 2014
The Royal College of Obstetricians and Gynaecologists (RCOG) have announced that they are launching a 5 year project with the aim of reducing baby deaths and brain damage are a result of incidents during term labour.
We are attending the launch in London on 23rd October.
30th September 2014
Shoosmiths solicitors have written a piece on Stillbirth including the lack of inquests.  The article includes information on Michelle's story.
18th September 2014
Today Nicky presented to the NHS Women's Patient Safety Group. There were representatives there from the NHS, Royal Colleges, CQC and NHS Litigation Authority. We talked about patient experiences of negligent care, covered some national statistics and called for improvements – particularly in Consultant cover and staffing.  A great opportunity to get patient's voices heard.
September 2014
We've had a few people asking for more information about Patient Safety & Maternity in Scotland. We've now been passed this link from Bernadette McCulloch, who is the Improvement Advisor for the Scottish Patient Safety Programme for Maternity. Click on her name on the link if you would like to contact her or get involved. www.scottishpatientsafetyprogramme.scot.nhs.uk/programmes/mcqic
7th August 2014
Sir Robert Francis is conducting a review called Freedom to Speak Up, into how to create an open and honest reporting culture in the NHS. This follows the terrible treatment of NHS Whistleblowers by hospital management. There is an opportunity for staff and others to have their say on what should be done – click on the link to find out more www.freedomtospeakup.org.uk
August 2014
Campaign for Safer Births has been nominated for a Butterfly Award in the UK Support Organisation Category.  Please click here to vote for us!
Michelle has also been nominated for Inspirational Mother.  Please click here to vote for Michelle.
Thank you !
July 2014
Here are the minutes from the latest NHS England Women's Patient Safety Expert Group
June 2014
We have now written to every Coroner in the UK highlighting the issue of maternity negligence and the need for inquests for stillborn babies
June 2014
Campaign for Safer Births are a partner organisation for the Stillbirth Priority Setting Partnership.
30th May 2014
Michelle met with Penelope Schofield, a senior Coroner, to discuss the campaign for inquests for babies stillborn during labour
8th April 2014
The Camapign for Safer Births Facebook page now has 1,000 members!
March 2014
Nicky attended the first meeting of the NHS England Women's Patient Safety Group. The minutes are available online: NHS England Women's Patient Safety Group – Agendas and Minutes
February 2014:
We have been successful in gaining a place on the new NHS England Women's Patient Safety Committee.  This is a national board bringing together NHS England, the royal colleges (RCOG and the RCM) and patient representatives.  The first meeting is in March – looking forward to it!
7th February 2014:
Nicky attended a meeting of the Cheshire and Merseyside NHS Maternity Strategic Clinical Network. These networks have been set up to bring together health care professionals, commissioners, patient organisations and patient representatives from across local regions to work together to help implement best practice and improve care.
17th January 2014:
Michelle had a meeting with Chris Heaton-Harris MP to discuss the recent National Audit Office report and subsequent Public Accounts Committee Questioning into issues in NHS maternity services.  The meeting was filmed for the documentary Stillborn, Still Loved.
12th December 2013:
Michelle gave a powerful interview to Martha Kearney on the BBC Radio 4 The World at One programme.  They were reporting on a Care Quality Commission survey that found that a quarter of women say they were left alone during labour at a time that worried them.
9th December 2013:
Nicky was featured in an article in the Cerebra charity online magazine.
Harry's Story – Click here to view

18th November 2013:
MP's from the Public Accounts Committee questioned key people involved in maternity services. Campaign for Safer Births submitted some information and questions and got a mention during the questioning!
October 2013:
RCOG (Royal College of Obstetricians and Gynaecologists) have published census data showing Consultant presence on labour wards by hospital.
See if your local hospital is meeting the recommended hours:
Consultant hours by hospital – Click here to view
The hours that the hospital should be covering is dependent on the number of births the hospital handles per year – as detailed here:
< 2500 births            Hours based on local needs 2500-4000 births    60 hours Consultant presence on labour ward per week 4000-5000 births    98 hours Consultant presence on labour ward per week > 5000 births            168 hours Consultant presence on labour ward per week
Many hospitals are sadly not meeting this minimum recommended level.  If your local hospital is one of them why not contact them to ask why?  You could also contact your local MP, Clinical Commissioning Group (or equivalent) or local paper
Link to Template Letter to send to hospitals
24th September 2013:
The campaign is featured in an article on Mumstreet
30th July 2013:
Michelle and Nicky were interviewed on BBC Radio Northampton

28th July 2013:
Sunday Times article on Consulant cover in Labour wards – featuring Michelle's case
Sunday Times 'If only he'd been born in the daytime'